Financial experts often recommend that you simply save your way to financial stability.
But saving is only part of the work.
Your career also depends on your ability to track your income.
As creatives or anyone in the creator economy, it is often feast or famine when it comes to income. If you don't know where your money is coming from, you run the risk of adopting a scarcity mindset, which can lead you to take on work that is not in line with where you want to go.
In the process, you lose valuable time and run the risk of burnout.
While everyone is different when it comes to earning a living, the type of work you take on is essentially the same.
The most successful creatives I know, understand that their money comes from three distinct areas: Traditional Work, Flexible Work, and Passion-Driven Work/ Entrepreneurship.
Here's a breakdown of all three:
Traditional work requires your time on a specific, non-flexible schedule, provides financial stability, and often offers benefits such as health insurance and retirement. Traditional work is the most stable and has the least amount of financial risk. This is work in which you have a boss that has hired you as part of a larger organization or business. For creatives or individuals pursuing work in the creator economy, this work likely provides the financial stability for you to pursue your creative work or other gigs when you're not at your traditional job.
Flexible work provides you with the flexibility to work on your own schedule with the stability that allows you to make ends meet.
Expertise Driven Freelance jobs

—Jobs accomplished without a set schedule and generally on a contract basis. Jobs in this area include graphic design, private lesson instruction, or web development.

On-Demand Economy Jobs

—New to our service economy, these jobs provide maximum flexibility for you to make money on your own time without the risk of running your own business. Jobs include Uber, Doordash, Lyft, and Airbnb.
Passion-Driven Work and Entrepreneurship. This area is where creatives and individuals in the creator economy often want to spend the majority of their time. This work also comes with the highest amount of financial risk. There are two types of jobs in this category:
Service Driven Income—

Work in which you can easily break down your earnings into an hourly rate. This includes being a performing artist, independent contractor, or consultant and involves an hour of your time in person as a way to make money.

Product Driven Income—

Work that involves a lot of upfront time but can be converted into passive income if developed correctly. This includes writing a book, developing an online tool or even creating a method book for your students
Let's put these types of income into action.
Case Study: Desmond is a 25-year-old artist living in Chicago. His dream is to perform full-time with his string quartet and he's giving himself five years to see if the group can make it happen. With that said, in the coming six months, Desmond only has one week of performances lined up for the quartet, which won't sustain him in a city like Chicago. In order to make ends meet Desmond has taken a desk job at a local community music school and he teaches private lessons in his home. Check out the table below, which represents the income breakdown for each job in a side-by-side fashion.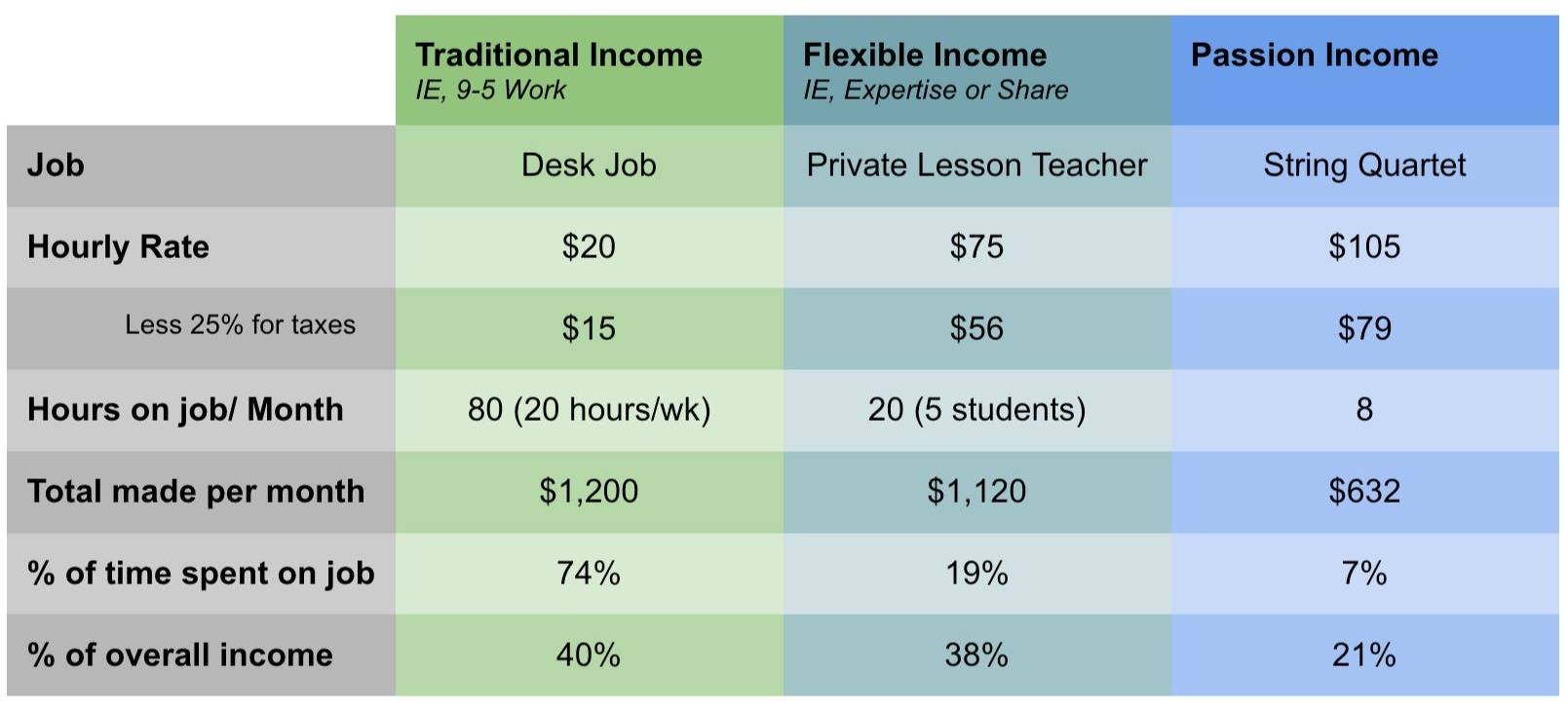 If Desmond only looked at the TOTAL amount of money made in a month, he might simply take on more traditional work. However, when Desmond looks at the percentage of time spent on the job, it becomes very clear that the place for him to put his energy is in private teaching where he spends 19% of his time making 38% of his annual income.
Given all of this information, my recommendation would be as follows:
Pursue your passion and find opportunities for financial stability.

If Desmond wants to make performing with a string quartet his top priority, he should continue to do so, but not expect that his work with the quartet will bring financial stability in the near future. This is primarily because he doesn't have control over when the quartet gets hired for work. The same rule applies when you dive into your creative work or launch a new venture. Too many things are beyond your control to predict if your passion income will support your lifestyle. My general rule of thumb is that creative or passion-driven income should not be considered financially stabilizing unless it consistently represents over 40% of your overall income. Even then, I would suggest that you have 3-6 months' worth of income in the bank before you start to pull back on other areas of work.

 

Set work priorities to find more time.

Desmond needs maximum flexibility so he can say yes to any gig that comes up with the quartet. While the desk job at the community music school is predictable and regular, it also takes a lot of Desmond's time during set hours, and at a lower rate than any of his other work. In this situation, the priority should be flexible income from teaching private lessons. If Desmond simply picked up six additional students as a private teacher, he would make more than he is currently making in his desk job and as a teacher combined. From a time perspective, that is a savings of 9 hours a week. Congrats Desmond, you just got your Fridays back!

 

Control what you can control.

Desmond can't (necessarily) control the upward trajectory of his quartet so he needs to build a safety net with the other two positions. Nobody can predict the future so it's important for Desmond to find other ways to financially support his work. In many ways, pursuing a career as a creative follows the laws of attrition. You have to do everything you can to extend the time you need to gain a strong financial footing in order to continue to do the work over a long period of time. You can't control the stickiness of a business or the launch of a performance career, but you can control how much traditional or flexible work you take on in order to extend the time it takes for people to discover your creative work.

 

How quickly would you like to attain financial stability?

The x-factor when it comes to financial stability is how quickly would you like to stabilize. After you control your immediate needs of shelter, food, water, and clothing, your goal should be to build out as long of a financially stable runway as possible. In the case of Desmond, he has a five-year goal to be financially stable enough to focus completely on his career as a chamber musician in a string quartet. In the immediate future, Desmond might have to pivot away from a career in performance towards something more stable. However, if he is playing the long game to financial stability, I would encourage him to come up with a 3-year plan that allows him to slowly decrease his traditional work as he picks up more flexible work and passion-driven work with the quartet.
This is not a one-size-fits-all equation and no one financial breakdown works for everyone.
However, when you create a side-by-side comparison of your income, your path to financial stability becomes incredibly clear.
Time and time again, this approach gives me incredible clarity about the next steps in my career.
Give it a try, it just might do the same for you!
Like what you read here? Join my newsletter below to receive weekly tips just like this, designed to help creatives like you navigate the most important decisions in your life and career.